Buncombe County River Parks –  services 7 river parks located throughout the Asheville area.
Crab Creek Catfish Farm, 441 Crab Creek Rd., no permit required, closed Mon. & Tues., Hendersonville, NC 828-692-0023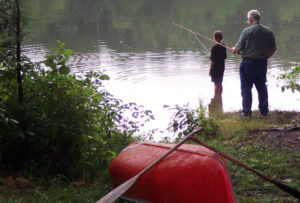 Dupont State Recreational Forest, permit required,  828-877-6527
Davidson River Recreational Area – Pisgah National Forest, permit required, 828-862-5960, 1-877-444-6777
French Broad River Paddle Trail
Henderson County Parks & Recreation – Henderson County has 2 river parks located throughout the Hendersonville area.
Blantyre River Park, The river-access park, is managed by the NC Wild Life Resource Commission and offers parking and a canoe port into the French Broad River
Westfeldt River Park – The Park includes river access, canoe/small boat launch ramp, picnic area, access road, parking and an open field area.
Lake Julian , daily permit required, Skyland, NC – 828-684-0376
Lake Lure, permit required, Town of Lake Lure, NC – 828-625-9983
North Mills River Recreational Area / Pisgah National Forest, permit required, 877-444-6777, 828-890-3284
Sorrell's Creek Trout Farm , 443 Sorrell's Creek Road, Canton, NC 28716, 828-648-9903
Southern Appalachian Anglers LLC, offers a full-service, guided waded fly fishing and float trips in Asheville; 828-691-1506
Fishing License 
Children under 16 years of age do not require a North Carolina fishing license but must be accompanied by a licensed adult or possess the license of a parent or guardian. License can be obtained by calling 888-2HUNTFISH or at various local retail outlets. (License not required at privately owned trout ponds/farms where admission is charged) http://www.ncwildlife.org
Henderson County NC Hunting & Fishing License Outlets 
Ace Hardware
911 Greenville Hwy., Hendersonville, NC 28792
(828) 697-2237
Five Points Grocery
26 Stepp Miil Rd, Hendersonville, NC 28792
(828) 685-7456
Walmart
250 Highlands Square Dr, Hendersonville, NC 28792
(828) 696-8285