Are you looking for an intimate setting for your wedding such as an elegant bed and breakfast, a lovely garden, picturesque vineyard, the charm of a historic building or a rustic barn? Hendersonville is the perfect mountain destination for your dream wedding because it has all of these options and more! Make your big day memorable not only for you and your fiancee, but a day your guests will be talking about for years. Several Hendersonville hotels and bed & breakfasts are prepared to ease the stress of wedding planning by offering special Wedding Packages.
The HCTDA has compiled a list of professional services needed in planning a wedding or a special event. The directory includes vetted wedding related businesses such as:  venues, caterers, accommodations, services, and event planners. Organizing a wedding can be a bit intimating and frustrating when you don't know where to begin, so let the HCTDA be your guide during your free consultation session, where you can discuss the many possibilities that are available in Henderson County. Call to make an appointment today with HCTDA's Group Sales Coordinator at 828-693-9708 or via email at groups@visithendersonvillenc.org. Go to the Group Planning page for a a wide variety of event vendors.

The natural beauty of Henderson County and the romantic backdrop of the Blue Ridge Mountains have drawn couples to the area for decades. Get inspired by the Hendersonville Visitor Center's Wedding Pinterest board!

Cancelled: 2020 Say "I Do" to Hendersonville Bridal Show

This event has been cancelled on November 14, 2020, due to state mandates and concerns of COVID-19.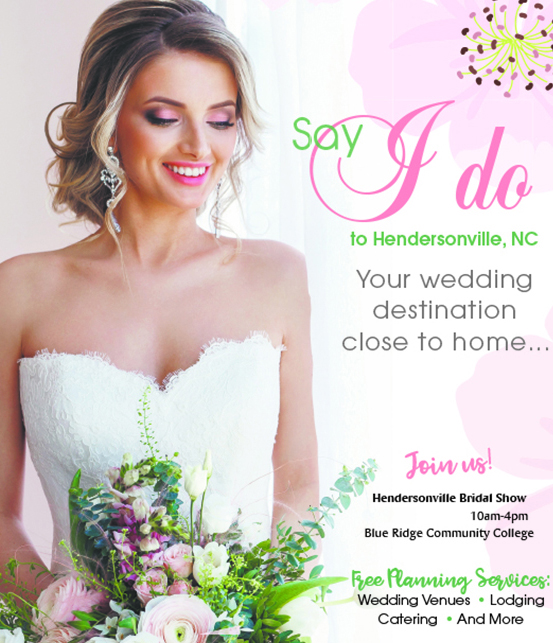 The Henderson County Tourism Development Authority will host its second annual Say I Do to Hendersonville Bridal Show on Saturday, November 14, 2020, at the Blue Ridge Community College Conference Hall from 10 am – 4 pm. The Say I Do to Hendersonville Bridal Show will offer one-stop shopping for couples planning their big day. Brides will meet local wedding professionals from every aspect of the wedding industry. Bridal Shows are a great place for brides, grooms, and their families to learn about what options are available to personalize their wedding. Guests will see and hear all about how to make their day special. Make sure to register for the grand prize drawing of a gift basket full of goodies for the happy couple.
Admission is $5 per person at the door or click to purchase Advance Tickets. If you purchased tickets for the original date in March, they will still be honored for the November date. In keeping with social distancing, the show is offering time slots to visit the Bridal Show. Select your entry time when purchasing tickets online.  Each entry time allows up to 50 people in at a time, in accordance with state mandates for limiting crowd sizes. Entry times: 10:00am-11:45am, 11:45am-1:00pm, 1:00pm-2:45pm & 2:45pm-4:00pm.
Gift Basket door prize sponsored by Gift Baskets by Melissa and the Henderson County Tourism Development Authority. Make sure you register for the drawing.
For more information call 828-693-9708 or contact HCTDA's Events Coordinator at events@visithendersonvillenc.org.
Happily His Wedding Coordinating ​