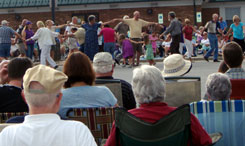 Visitor Center
201 South Main Street
Downtown Hendersonville
Bring a Chair
Admission is Free
No Pets, Alcohol or Coolers Allowed
July 8 – August 12, 2019
Every Monday Night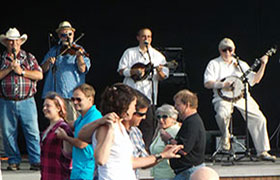 The Street Dances are a 101-year-old tradition for Hendersonville! They began in 1918, at the end of World War I, when the city welcomed home its soldiers from the War by celebrating in the streets, and became nationally known after they were included in the guidebook Blue Ridge Music Trails, Finding A Place In The Circle, written by Fred S. Fussell. The guidebook was winner of the first PRESERVE AMERICA Presidential Award for Heritage Tourism.
The sounds of fiddles and banjos playing at the Street Dances have been a part of Henderson County's heritage for more than 100 years, calling people of all ages put on their dancing shoes and journey to downtown Hendersonville to enjoy toe-tapping-good mountain music and dance right in front of the main stage. The dances are held every Monday evening from July 8 through August 12 at the Visitor Center, located at 201 South Main Street.
Hendersonville comes alive with people square dancing and clogging to the traditional mountain and bluegrass music performed by a live band. Plus, special appearances are often made by area clogging teams, make the Street Dances an even more entertaining, foot stomping evening.
Lively instructions are given to the dancers by a local caller. At 6:30pm, our caller, Walt Puckett, will teach audience members some basic square dancing moves used in traditional Appalachian square dancing, such as the Right Hand Across, Open the Garden Gate and the Shoe Fly Swing.
Bring a chair, and sit back, relax and enjoy mountain heritage music and dancing from 7:00-9:00pm. The seating area opens at 5:30pm, and early admission is prohibited. Admission is free. No alcoholic beverages, backpacks or coolers allowed. 
Please leave your pets comfortably at home. A Hendersonville City ordinance allows event organizers to exclude animals from the event space for the health, safety and welfare of the community, dogs, patrons, and vendors and their products.
In case of inclement weather the dance will be postponed until 8:00pm, and if the weather does not cooperate by 8:00pm, the performance will be cancelled.
For additional information call the Henderson County Tourism Development Authority at 828-693-9708. The Street Dances are coordinated, produced, and sponsored by Henderson County Tourism Development Authority.
Download a copy of the 2019 Summer Music Brochure.

2019 Summer Concert Series Corporate Sponsors:
Street Dance Concert Schedule
July 8: Appalachian Fire / Southern Connection Cloggers

July 15: Blue Ridge Tradition / Mountain Thunder Cloggers

July 22: Appalachian Fire / Southern Connection Cloggers

July 29: Blue Ridge Tradition / Open Floor Dance Demonstration

August 5: Appalachian Fire / Lake Lure Cloggers

August 12: Blue Ridge Tradition / Southern Connection Cloggers

There are no upcoming events at this time.