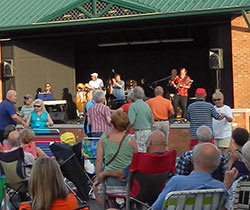 Monday nights from June 10 – 24, 2019
7:00 – 9:00 pm
Visitor Center, 201 South Main Street, Hendersonville, NC
Experience an array of talented music artists on a pleasant summer night at the Monday Night Live! concert series. The first annual series features a diverse line-up of folk, country and blues. The eclectic line-up of free live performances happen every night Monday night from June 10 – 24 at the Visitor Center, 201 South Main Street, from 7pm-9pm.  Enjoy the fresh air, bring a chair and delight in the one-of-a-kind experience you'll get from this unique outdoor music venue.
Bring a chair and sit back, relax and enjoy mountain heritage music and dancing from 7:00-9:00pm. Seating area opens after 5:30pm, early admission is prohibited. Admission is free. No alcoholic beverages, backpacks/tote bags or coolers allowed.
Please leave your pets comfortably at home. A Hendersonville City ordinance allows event organizers to exclude animals from the event space for the health, safety and welfare of the community, dogs, patrons, and vendors and their products.
In case of inclement weather the dance will be postponed until 8pm; if the weather does not cooperate by 8pm the performance will be cancelled.
For additional information call the Henderson County Tourism Development Authority at 828-693-9708. The Monday Night Live concert series is coordinated, produced, and sponsored by Henderson County Tourism Development Authority.
Download a copy of the 2019 Summer Music Brochure.
2019 Summer Concert Series Corporate Sponsors:
Concert Schedule
June 10: Johnnie Blackwell Band (classic rock)

June 17: Mojo Brothers Blues Band (blues)

June 24: Dog Whistle (classic country)

There are no upcoming events at this time.