Home for the Holidays

November 1,  2019 – January 1, 2020
Hendersonville, NC
Check the Home for the Holidays calendar of events for times and locations of many other events click on calendar.
Come "Home for the Holidays" and experience the holidays with small town charm, sprinkled with excitement for the entire family. Let Hendersonville become your Hometown during the Holiday season.
The unique stores along Main Street are decked out with Christmas decorations for the season. Large wreaths with big red bows hang from streetlights, along with twinkling lights and decorations in the planters that line the serpentine street.
The area abounds with holiday activities such as the Flat Rock Playhouse productions, an ice-skating rink, wagon rides, holiday concerts, visits with Santa, Christmas parade, and many other events for all ages.
The holiday season, with its many traditions, family gatherings and good cheer, will soon be upon us. Rediscover this magical time of the year and create cherished memories to last a lifetime. Catch the Christmas spirit in Hendersonville and pass it along. Be sure to explore the complete listing of holiday events happening in Western North Carolina.

Make your holiday reservations soon! Click for the a list of restaurants open during the holiday season 2018 Holiday Dining Guide and Lodging Information.
Click for a Complete Restaurant Guide, which includes addresses, web sites, and telephone number.

2019 Featured Events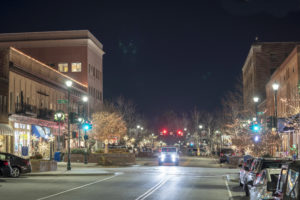 November 29
Downtown Street Lighting & Santa's Arrival
5:00pm  
The lighting of downtown holiday lights and Santa's arrival kick off the holiday season in Downtown Hendersonville.  The evening features entertainment, sing-along, hot chocolate and a visit from Santa Claus at the Historic Courthouse on Main Street. Click for more information Downtown Hendersonville
November 8 – 17
Flat Rock Playhouse presents:  "The Lion, the Witch, and the Wardrobe"
Four kids travel through a wardrobe to the land of Narnia and learn of their destiny to free it with the guidance of a mystical lion! The play was based on the novel by C. S. Lewis. Click for tickets Flat Rock Playhouse
December 7
Hendersonville Christmas Parade
10:00am
A traditional hometown Christmas parade travels along Main Street from Five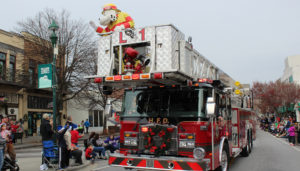 Points to Caswell Street. Sponsored by the Hendersonville Merchants & Business Association. This year's theme is the "The Magic of Christmas". Visit the Hendersonville Merchants & Business Association web site to download a Parade application. 828-692-4179
November 29 – December 22
Flat Rock Playhouse Mainstage presents:  "A Flat Rock Playhouse Christmas"
An all-new Christmas production follows up last year's smash holiday hit. This original musical revue performed by your favorite Flat Rock Playhouse singers and dancers is filled with holiday cheer. Celebrate the holidays Vagabonds style!  Click for tickets Flat Rock Playhouse
December 6
Olde Fashioned Hendersonville Christmas
Main Street / 5pm – 8pm
The Downtown merchants open their doors and invite holiday shoppers in with a festive window displays, decorations, caroling, music, and refreshments. 828-697-2232.
December 8
Holiday Tour of Historic Inns and Cookie Caper
1pm-4pm
Fee Charged
The Holiday Tour of Historic Inns and Cookie Caper is a self-guided tour of several inns and the Cookie Caper part of the tour is a delicious Christmas treat at each inn. 828-697-3010
December 18 – January 1
Iceless Skating Rink
Group rates available for 10 people or more (payment by cash or check only)

Enjoy ice-skating in Downtown Hendersonville this holiday season. The new larger and improved iceless rink is located at the Visitor Center on South Main Street. The new surface is faster and makes for easier gliding. A curling lane is also available. Play a variety of free games while you wait your turn on the ice. Skating offers endless family-friendly fun.The synthetic ice skating rink is made from special polymers so it can be enjoyed year-round in any temperature. Skate rental included in admission price. Weather permitting. Fundraiser for the Henderson County America in Bloom Program. To learn more go to: Henderson County America in Bloom
December 20 – 22
Main Street Holiday Hayrides
5pm – 8pm
Free
Take a magical hayride through Historic Downtown Hendersonville among its twinkling lights and festive decorations. Board the tractor-drawn wagon ride at the Visitor Center, located at 201 South Main Street. Reservations are not accepted, first-come, first-served basis.
Christmas Tree Farms & Greens Markets
Download a Christmas Tree Farm & Market Guide
Christmas Trees & Greens Markets
Christmas Trees, Wreaths, Greenery, & Garland
Henderson County Curb Market, 221 N. Church St., Tues, Thurs. & Sat. 8am-1pm, Christmas wreaths & fresh greenery, Hendersonville, NC 828-692-8012 
Hendersonville Christmas Tree & Greens Markets
In front of the Fresh Market at the intersection of Spartanburg and Greenville Highways

Hwy. 64 E., in front of Fatz's Cafe, next to Denny's
Lyda Farms,   Christmas trees, wreaths, garland, & mailbox swags, 3465 Chimney Rock Rd., Hendersonville, NC (828) 685-3459
Justus Orchards – Christmas at the Farm, November 23 – 25 & November 30 – December 2, 10am – 8pm – Christmas trees, baked goods, family photos and more. 187 Garren Rd., Hendersonville, NC 
Christmas Tree Farms
Boyd Mountain Tree Farm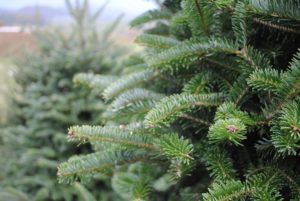 445 Boyd Farm Rd., Waynesville, NC
828-506-3513 or 828-926-8888
Fraser Firs 4 -20 feet, wreaths & garland
Directions
Camp Tree Farm
301 Cabin Creek Rd.
Zirconia, NC
828-692-6280
Norway Spruce 4-8 feet
Hi-Lo Mountain Christmas Trees
26 Pole Miller Rd, Brevard, NC
828-884-3436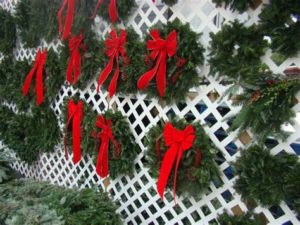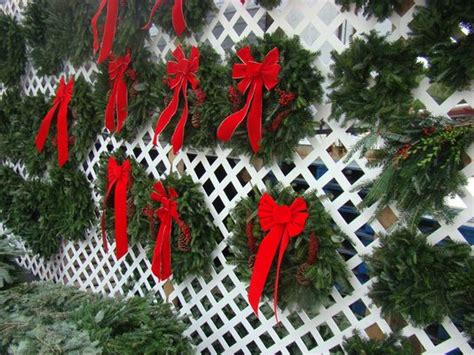 Fraser Firs 5-16 feet & wreaths
Directions
High Valley Trout and Tree Farm
615 Cathey's Creek Rd., Brevard, NC
828-884-2581 or 828-883-3951
Fraser Fir 5-20 feet & wreaths
More Information
Nesbitt Christmas Tree Farm – Sold Out for 2018
333 Sunset Ridge, Clyde, NC
828-456-9914
Frazer Fir, wreaths, table arrangements, & kissing balls
More Information
Reeves Tree Farm
9507 NC Hwy. 63, Leicester, NC
828-779-0115
Fraser Firs 4-10 feet
Directions
Sandy Hollar Tree Farm
63 Sandy Hollar Lane, Leicester, NC
828-683-3645
Fraser Firs 4-12 feet, wreaths, & garland
Directions
Holiday Dining Guide
2018 Holiday Restaurant Dining Guide – restaurants that are serving lunch or dinner on Thanksgiving, Christmas Eve, Christmas, New Year's Eve and New Year's Day. Call for Hours of Operation. Information is Subject to Change. Click for a Complete Restaurant Guide, which includes addresses, web sites, and telephone number.
November 1, 2019 @ 8:00 am
-
January 1, 2020 @ 5:00 pm