Home for the Holidays

November 1,  2020 – January 1, 2021
Hendersonville, NC
Check the 2019 Home for the Holidays Brochure for times and locations of many other events click on calendar.
Come "Home for the Holidays" and experience the holidays with small town charm, sprinkled with excitement for the entire family. Let Hendersonville become your Hometown during the Holiday season.
The unique stores along Main Street are decked out with Christmas decorations for the season. Large wreaths with big red bows hang from streetlights, along with twinkling lights and decorations in the planters that line the serpentine street.
The holiday season, with its many traditions, family gatherings and good cheer, will soon be upon us. Rediscover this magical time of the year and create cherished memories to last a lifetime. Catch the Christmas spirit in Hendersonville and pass it along. Be sure to explore the complete listing of holiday events happening in Western North Carolina.

Make your holiday reservations soon! The 2019 Holiday Dining Guide offers a of restaurants open during the holiday season and Lodging Information.
Click for a Complete Restaurant Guide, which includes addresses, web sites, and telephone number.

2020 Featured Events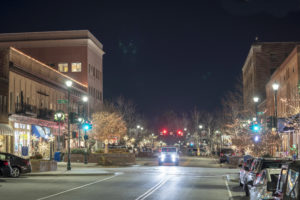 November 27
Downtown Street Lighting & Santa's Arrival
5:00pm  
The lighting of downtown holiday lights and Santa's arrival kick off the holiday season in Downtown Hendersonville.  The evening features entertainment, sing-along, hot chocolate and a visit from Santa Claus at the Historic Courthouse on Main Street. Click for more information Downtown Hendersonville
November 27 – December 18
Merchant Decoration Contest
Merchants all over Henderson County vie for the honor of best holiday window displays and lighting.  The lights go on with the holiday street lighting. Take a drive around the county to look at all of the festive holiday displays. Vote for your favorite store front online, check back for when voting opens – (828) 693–9708

November 27 – December 23
Peppermint the Bear Scavenger Hunt
Free
Peppermint Bear will take you on a fun-filled bear hunt through downtown Hendersonville looking for her cubs.  As you search for the cubs, visit at least 12 of the 22 downtown participating businesses to be eligible for prizes. Complete the entry form in the brochure and drop it in Peppermint's mailbox, located in front of the Visitor Center, by December 23rd. For more details about the Scavenger Hunt, watch this video or stop by the Visitor Center at 201 South Main Street. Download a 2019 Peppermint Bear Scavenger Hunt brochure.

Christmas Tree Farms & Greens Markets
Download a Christmas Tree Farm & Market Guide
Christmas Trees & Greens Markets
Christmas Trees, Wreaths, Greenery, & Garland
Henderson County Curb Market, 221 N. Church St., Tues, Thurs. & Sat. 8am-1pm, Christmas wreaths & fresh greenery, Hendersonville, NC 828-692-8012 
Hendersonville Christmas Tree & Greens Markets
In front of the Fresh Market at the intersection of Spartanburg and Greenville Highways

Hwy. 64 E., next to Denny's
Lyda Farms,   Christmas trees, wreaths, garland, & mailbox swags, 3465 Chimney Rock Rd., Hendersonville, NC (828) 685-3459
Justus Orchards – Christmas at the Farm, Christmas trees, baked goods, family photos and more. 187 Garren Rd., Hendersonville, NC
Christmas Tree Farms
Boyd Mountain Tree Farm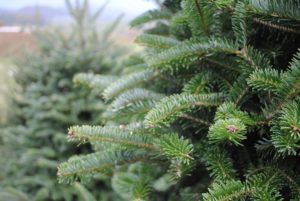 445 Boyd Farm Rd., Waynesville, NC
828-506-3513 or 828-926-8888
Fraser Firs 4 -20 feet, wreaths & garland
Directions
Mehaffey Tree Farm
24 Corner Dr., Waynesville, NC
828-476-8505
Fraser Firs 6-9 feet & wreaths
More Information
Nesbitt Christmas Tree Farm
333 Sunset Ridge, Clyde, NC
828-456-9914
Frazer Fir, wreaths, table arrangements, & kissing balls
More Information
Reeves Tree Farm
9507 NC Hwy. 63, Leicester, NC
828-779-0115
Fraser Firs 4-10 feet
Directions
Sandy Hollar Tree Farm
63 Sandy Hollar Lane, Leicester, NC
828-683-3645
Fraser Firs 4-12 feet, wreaths, & garland
Directions
Smoky Tree Farm
756 Hemphill Rd., Waynesville, NC
800-400-2933
Fraser Firs 4-12 feet, wreaths, & garland
More Information
Holiday Dining Guide
2019 Holiday Restaurant Dining Guide – restaurants that are serving lunch or dinner on Thanksgiving, Christmas Eve, Christmas, New Year's Eve and New Year's Day. Call for Hours of Operation. Information is Subject to Change. Click for a Complete Restaurant Guide, which includes addresses, web sites, and telephone number.
November 1 @ 9:00 am
-
7:00 pm