Home for the Holidays
November 1,  2021 – January 1, 2022
Hendersonville
Check the Home for the Holidays event calendar at the bottom of the page for times and locations of a variety of
events or click on the calendar for a complete listing.
Come "Home for the Holidays" and experience the holidays with small-town charm, sprinkled with excitement for the entire family. Let Hendersonville become your Hometown during the Holiday season.
The unique stores along Main Street are decked out with Christmas decorations for the season. Large wreaths with big red bows hang from streetlights, along with twinkling lights and decorations in the planters that line the serpentine street.
The holiday season, with its many traditions, family gatherings, and good cheer, will soon be upon us. Rediscover this magical time of the year and create cherished memories to last a lifetime. Catch the Christmas spirit in Hendersonville and pass it along. Be sure to explore the complete listing of holiday events happening in Western North Carolina.

Make your holiday reservations soon! The 2020 Holiday Dining Guide offers a list of restaurants open during the holiday season and Lodging Information.
Click for a Complete Restaurant Guide, which includes addresses, websites, and telephone numbers.

2021 Featured Events
November 19 – January 1
Winter Lights
North Carolina Arboretum
Experience Asheville's BRIGHTEST holiday tradition at Winter Lights at the North Carolina Arboretum. The Arboretum welcomes people back into the gardens as it returns to the traditional outdoor walk-through open-air show format. The famously tall 50-foot lighted tree and the Quilt Garden will be back, outfitted with new designs in lights, while throughout the gardens, popular arrangements will mingle with ones never seen before. 828-665-2492           Click to purchase tickets.
November 26
Holiday Tree Lighting / 5:30 – 8 pm
Historic Courthouse on Main Street
The tradition continues Downtown's Holiday Street Lighting kicks off the season with Christmas songs with Laura Laughter and Tim Levene, hot drinks and delicious treats, shopping and a countdown as Santa arrives to light up Main Street. Lights on at dusk followed by free visits with Santa and carriage rides. Click for more information Downtown Hendersonville

November 26 – December 19
A Flat Rock Playhouse Christmas
Flat Rock Playhouse
The tradition continues on the Rock after going virtual! Bring the whole family to this dazzling holiday celebration, Playhouse-style! An all-new show with the same great spirit and quality, A Flat Rock Playhouse Christmas 2021 will feature many seasonal classics along with several new adaptations and medleys. Showcasing a cast of Flat Rock favorites, this song and dance revue is sure to bring you great holiday joy!  Click for tickets and safety guidelines.
November 26 – December 23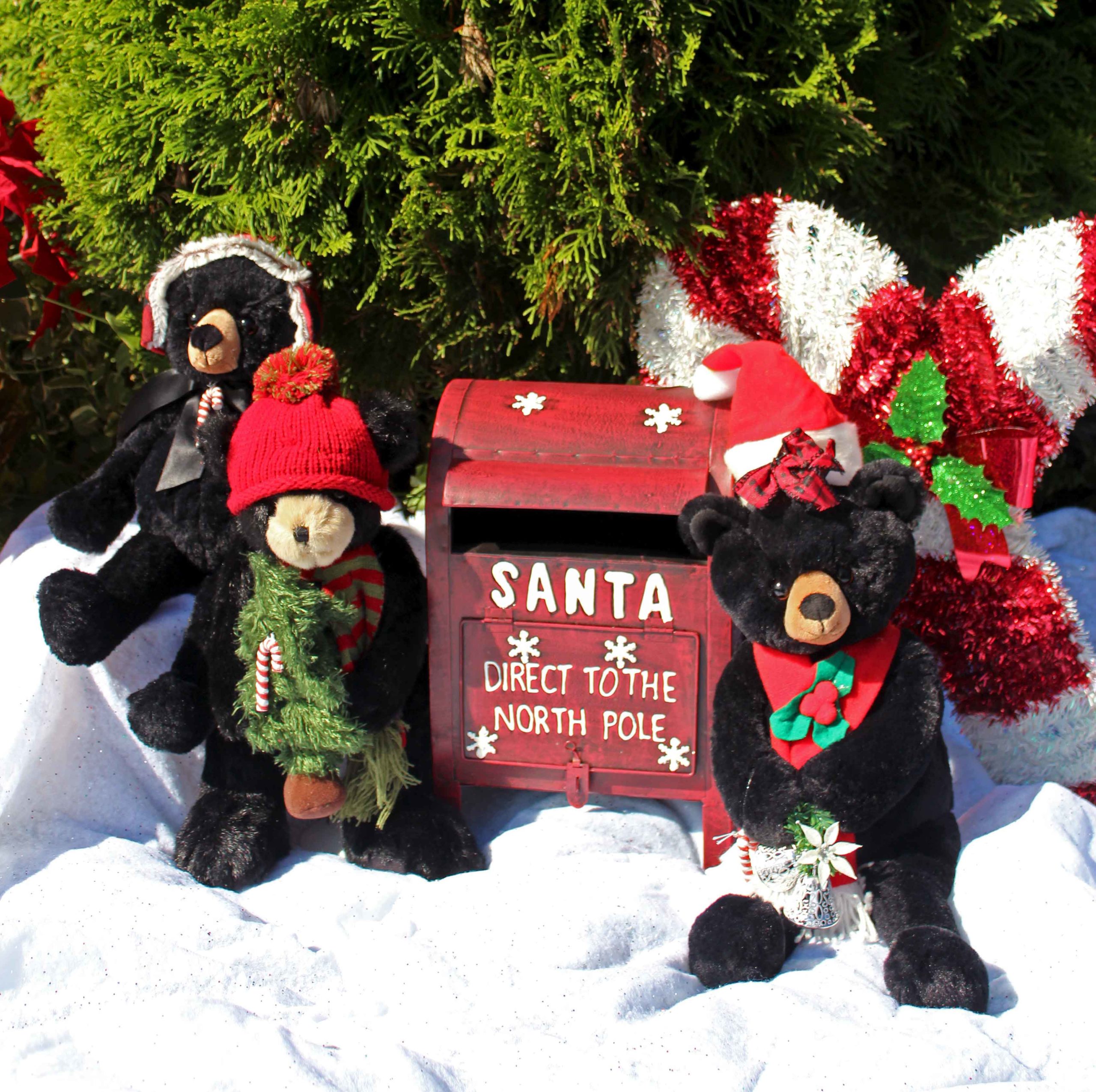 The Peppermint Bear Scavenger Hunt
Free
Peppermint Bear will take you on a fun-filled bear hunt through downtown Hendersonville looking for her cubs.  As you search for the cubs, visit at least 12 of the 26 downtown participating businesses to be eligible for prizes. Complete the entry form in the brochure and drop it in Peppermint's mailbox, located in front of the Visitor Center, by December 23rd. For more details about the Scavenger Hunt, watch this video or stop by the Visitor Center at 201 South Main Street. Federal and state-mandated guidelines for social distancing will be followed. Download a 2020 Peppermint Bear Brochure.
Santa on the Chimney
December 4 & 11
Chimney Rock State Park / 11 am – 2 pm
Included with Park Admission
Chimney Rock State Park will be hosting Santa as he practices for the big night on one of the world's largest chimneys.  Enjoy holiday tunes, hot cocoa, cookies, and meet live Park animal ambassadors. For details go to Chimney Rock State Park.
December 10
Luminary Night in Downtown Hendersonville / 5:30 – 9 pm
Luminaries will add a warm glow to the historic charm of Main Street. The Friends of Downtown in partnership with Four Seasons Hospice and downtown merchants invite you to come shop in Historic Downtown Hendersonville. Follow the illuminated pathways to merry shops open late for your holiday shopping convenience.Click for more information Downtown Hendersonville

Christmas Trees & Greens Markets
Christmas Trees, Wreaths, Greenery, & Garland

Christmas Tree Lot, in front of Fresh Market at the intersection of Spartanburg & Greenville Highways
Cut Fir trees in a variety of heights & sizes
Last Chance Thrift Store, is selling Christmas trees & wreaths, 404 S Grove St, Hendersonville, NC
Henderson County Curb Market, 221 N. Church St., Hendersonville, NC 828-692-8012
Open: Tues, Thurs. & Sat. 8 am-1 pm
Christmas wreaths, fresh greenery, baked goods, canned goods, jellies, produce & crafts
Western NC Farmer's Market, 570 Brevard Rd., Asheville, NC 828-253-1691
Open: 7 days a week year round
Cut & balled Christmas trees, wreaths, greenery, crafts, canned goods, produce & honey

Christmas Tree Farms
Boyd Mountain Tree Farm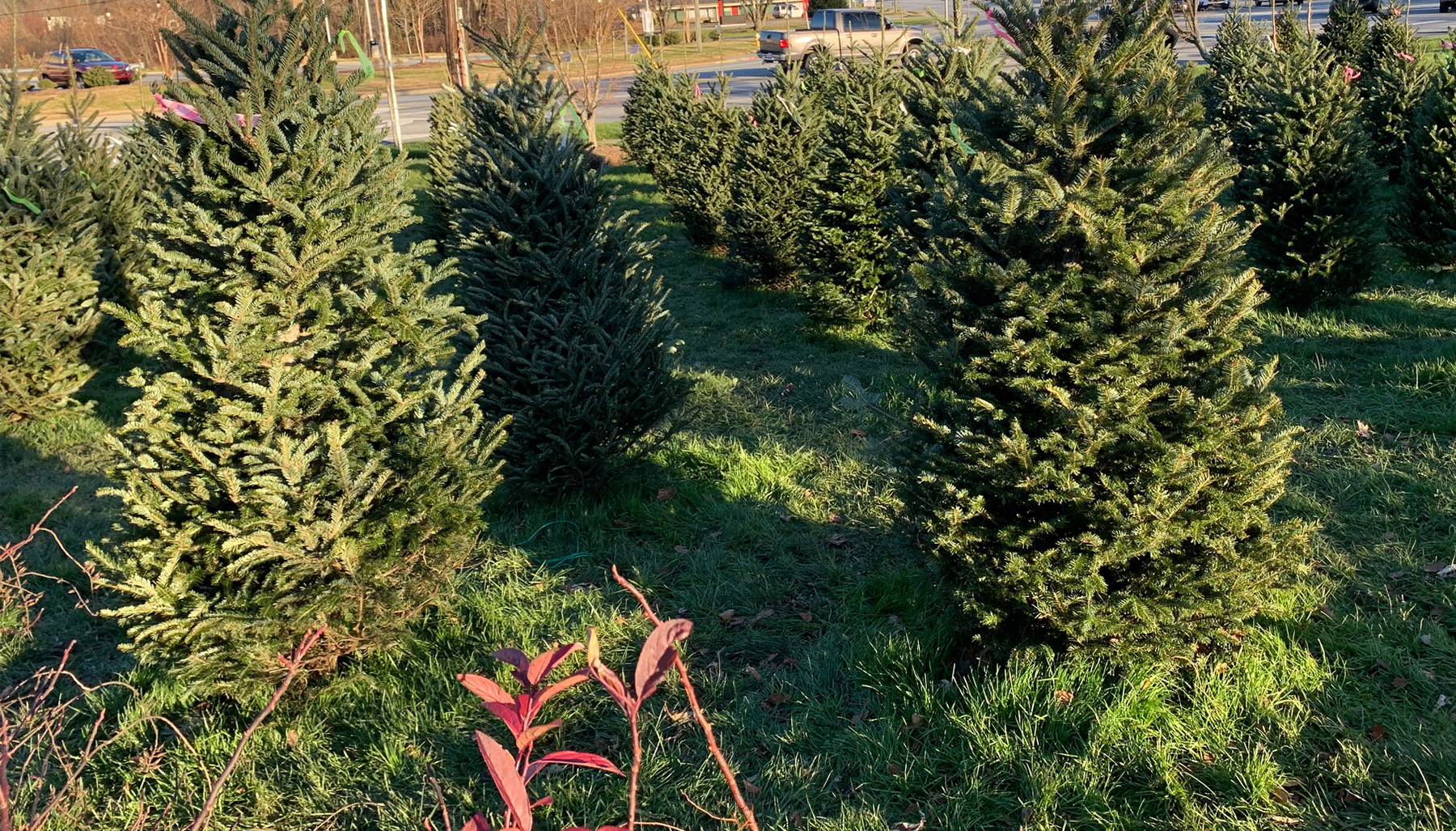 445 Boyd Farm Rd., Waynesville, NC
828-506-3513 or 828-926-8888
Fraser Firs 4 -20 feet, wreaths & garland
Directions
Camps Evergreens / Camp Tree Farm
301 Cabin Creek Rd, Zirconia, NC
828-674-2558
Norway Spruce

Jeter Mountain Farm
1126 Jeter Mountain Rd, Hendersonville, NC
828-513-0404
Fraser Firs & Norwegian Spruce 4 -20 feet
Open November 27 & 28
December 4 & 5 closed / sold out

Mehaffey Tree Farm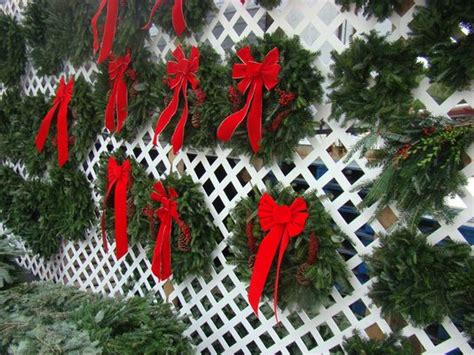 24 Corner Dr., Waynesville, NC
828-476-8505
Fraser Firs 6-9 feet & wreaths
Nesbitt Christmas Tree Farm
333 Sunset Ridge, Clyde, NC
828-456-9914
Frazer Fir, wreaths, table arrangements, & kissing balls
Reeves Tree Farm
9507 NC Hwy. 63, Leicester, NC
828-779-0115
Fraser Firs 4-10 feet
Directions
Sandy Hollar Tree Farm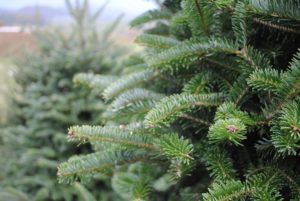 63 Sandy Hollar Lane, Leicester, NC
828-683-3645
Fraser Firs 4-12 feet, wreaths, & garland
Directions
Smoky Tree Farm
756 Hemphill Rd., Waynesville, NC
800-400-2933
Fraser Firs 4-12 feet, wreaths, & garland
Holiday Dining Guide
2020 Holiday Restaurant Dining Guide – restaurants that are serving lunch or dinner on Thanksgiving, Christmas Eve, Christmas, New Year's Eve, and New Year's Day. Call for Hours of Operation. Information is Subject to Change. Click for a Complete Restaurant Guide, which includes addresses, websites, and telephone numbers.
2021 Events
November 26 @ 10:00 am
-
December 23 @ 5:00 pm