Bicycling in the Hendersonville area is extremely popular due to the availability of bicycle routes nearby. These rides showcase the area's beauty along country roads, mountain trails and dirt roads.

The Blue Ridge Bicycle Club promotes healthy and fun lifestyles through cycling in Western North Carolina. The club offers organized group rides throughout the year. They are also a great resource for those looking for information on routes.

Mountain Biking
Pisgah National Recreational Forest encompasses 501,691 acres stretching across the eastern edge of Western North Carolina's mountains. The Forest offers hiking trails, fishing, camping, picnic sites, mountain biking and spectacular waterfalls. Some of Pisgah National Forest's attractions include Looking Glass Falls, Sliding Rock, Pisgah Forest State Fish Hatchery, Pisgah Center for Wildlife Education, The Cradle of Forestry and the North Mills River Recreational Area. The North Mills River Recreational Area is located just 13 miles from Hendersonville and offers 39 picnic sites, 32 campsites, river fishing & tubing.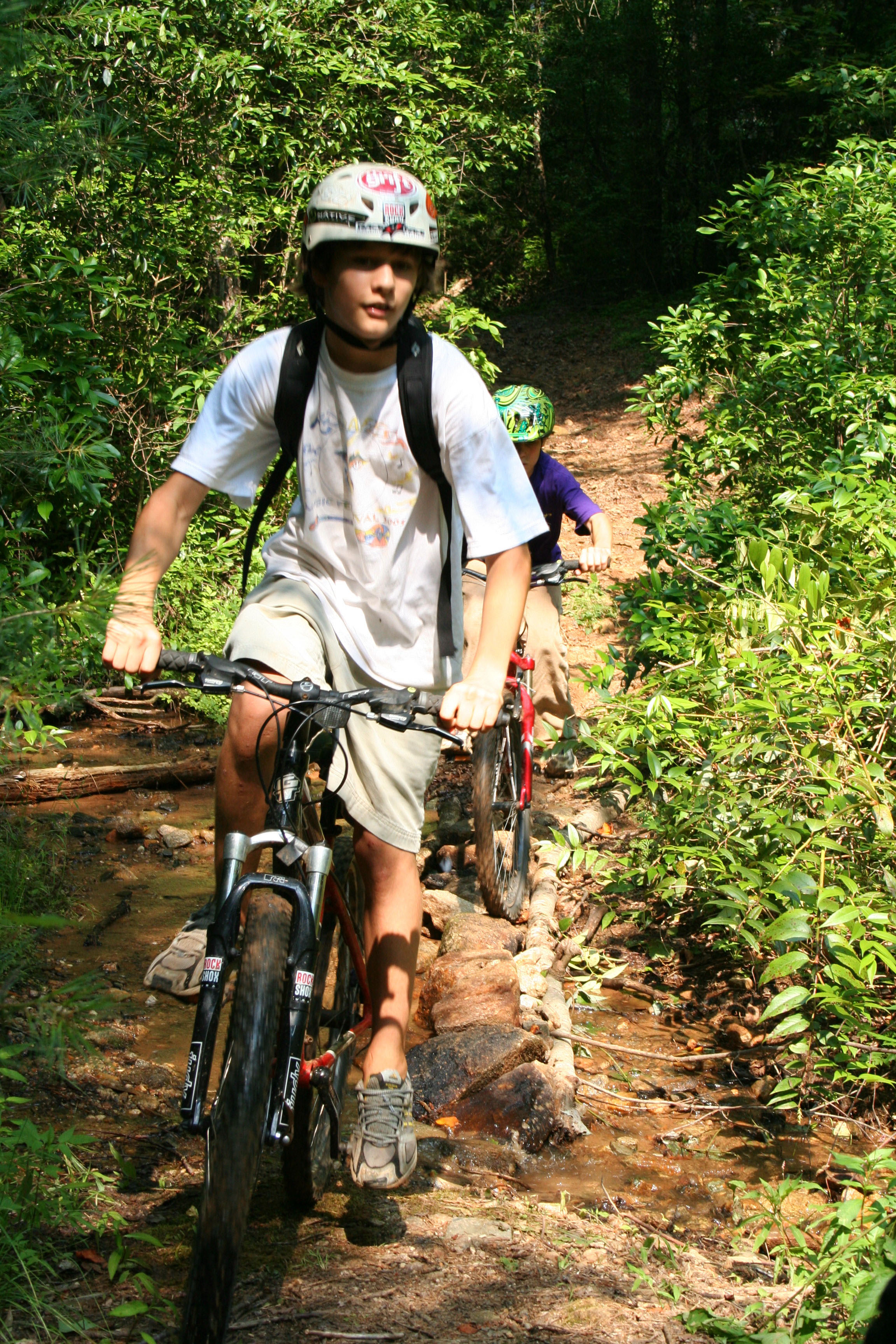 DuPont State Recreational Forest encompasses 10,473 acres in Henderson and Transylvania counties. It is situated in the Little River valley and includes waterfalls and 80 miles of roads and trails wandering through mountainous terrain. DuPont also has a Kids Skills Area, a path designed for kids (and kids at heart) to practice on obstacles and jumps. The forest is open to the public for hiking, mountain biking and horseback riding. Fishing is allowed with a valid NC fishing license. Hunting is by special permit only.
The Ride Kanuga Bike Park is open to the public for a daily, monthly or annual fee. Set up in the style of a ski resort, there is one way up the mountain, then multiple courses that are rated by skill level that you can take down the mountain. Each downhill course is only open to bikes and offers jumps and challenges designed specifically for this space. Bikes can be rented here, so you don't need to bring your own.

The Riveter features several options for bike riding. The facility boasts a covered area with terrain for all types of bikes and skill levels. The outdoor riding area offers a wide range of features of a hillside. Bike rentals are available. See pricing for more information. Located near Sierra Nevada in Mills River.
Chimney Rock State Park's Weed Patch Mountain Trail connects Eagle Rock in Chimney Rock State Park to Buffalo Creek Park near Rumbling Bald Resort. The trail is ideal for biking and hiking. Located a short drive east of downtown Hendersonville in the towns of Chimney Rock and Lake Lure. 
The North Carolina Arboretum offers miles of diverse biking routes that meander through the scenic property. The trails range from easy for the novice rider to difficult, for the more experienced cyclist.   Please be mindful of hikers and Arboretum vehicles while on trails.
Adventure Center of Asheville features a bicycle experience called Kolo Bike Park. It consists of 4 miles of purpose-built mountain bike trails on rolling terrain.
Sharing the Road Safety Tips

Reduce your speed when encountering cyclists.

Yield to Cyclists. Bicycles are considered vehicles.

Be Considerate. Scan for cyclists in traffic and at intersections.


Pass with Care. When passing, leave four feet between you and a cyclist.

Use caution and patience when sharing the road with cyclists.