Mineral & Lapidary Museum
of Henderson County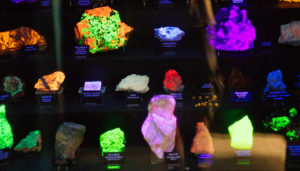 400 North Main St
Hendersonville, NC 28792
Use your Hendersonville Rewards Card for a 10% discount in the gift shop (excludes consigned jewelry and goods)
Mineral & Lapidary Museum of Henderson County houses exhibits from North Carolina, Indian artifacts, a specialty of a single mineral, fossils, fluorescent minerals, gems and a Henderson County Meteorite. A 260-lb. amethyst geode from Uruguay and replicas of World Famous Diamonds are featured displays.
Open Monday-Friday 1pm-5pm and Saturday 10am-5pm (Winter Hours: open Wednesday – Saturday).

Admission is free.

Located on the lower level of the Henderson County Genealogical & Historical Society building.