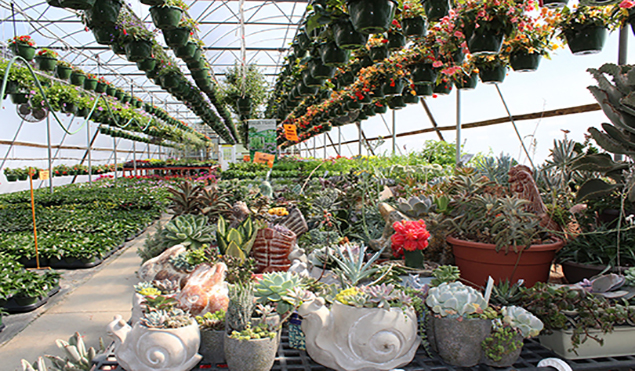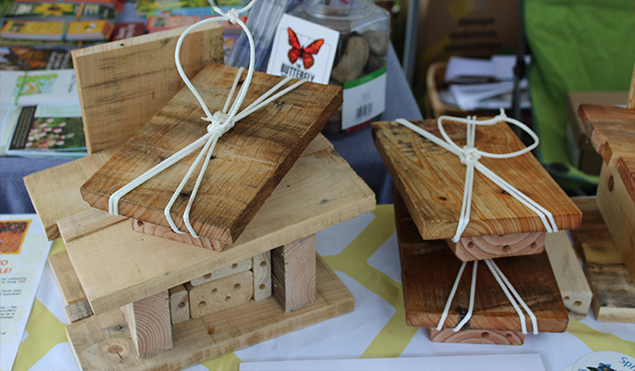 Garden Jubilee Nurseries & Orchards Tour
May 28 – 30, 2021
9 am – 5 pm Daily
Indulge your green thumb with a Memorial Day weekend visit to Hendersonville for the Garden Jubilee Nurseries & Orchards Tour.
Hendersonville's 28th annual garden & plant extravaganza has a new format this year, combining the success of last year's countryside tour to nurseries and orchards with a return to Main Street, scaled back for social distancing purposes.
This new town-and-country format takes place Friday to Sunday, May 28-30, with the downtown portion available Saturday and Sunday only. Main Street is now considered one of 16 stops on the tour.  The self-guided tour allows you to have the flexibility of mapping out your own route by starting at the business of your choice.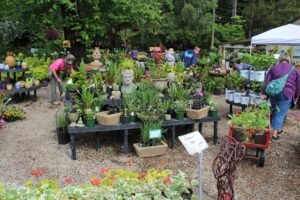 Henderson County offers a wealth of agritourism-related business, which includes nurseries, farms and orchards. The self-guided Garden Jubilee Nurseries & Orchards Tour enables the public to experience the fun and great shopping experience of Garden Jubilee while remaining spread out. Additionally, visitors will have access to products that they may not have access to on Main Street, due to space constraints. By going directly to the various locations, shoppers have the opportunity to peruse their entire inventory, for a much broader selection of merchandise. Nurseries and orchards will also host on-site vendors selling garden accessories, crafts, additional plants and other items.
Meanwhile, Main Street returns to the mix Saturday and Sunday with smaller booths than in previous years, plus a tripling of space between each vendor. Attendees can shop for small plants, lawn and garden items, and crafts, while taking advantage of more than two dozen restaurants downtown, many offering outdoor dining.
Tour hours are 9 a.m. to 5 p.m. all three days. Downtown hours are 9 a.m. to 5 p.m. Saturday and Sunday only.
The modifications to the 2021 Garden Jubilee will follow federal and state-mandated guidelines for cleaning, social distancing, limiting crowd size and wearing a mask.
Please leave your pets comfortably at home, animals are not allowed in the Garden Jubilee Nurseries & Orchards event areas.
For additional information about the Garden Jubilee 2021 Nurseries & Orchards Tour, call the Henderson County Tourism Development Authority at 828-693-9708 or 800-828-4244. Click here for lodging or area information.
Garden Jubilee is an event of the Henderson County Tourism Development Authority.
2021 Garden Jubilee Nurseries & Orchards Tour

A Growing Concern Garden Center, 707 Spartanburg Hwy, Hendersonville, 828-697-2772


Area's oldest garden center, offering our unmatched selection and quality of annuals, perennials, flowering trees and shrubs, unique ornamental conifers as well as a vast selection of Japanese maples and truly one-of-a-kind specimens. Our experienced staff looks forward to welcoming you and helping with your "growing concerns" and questions. Like us on

Facebook

.
Barry Farms, 345 Kimzey Rd Mills River, 828-778-6409
Family owned and operated farm for over 30 years – 20+ acres with several greenhouses and gardens. Specializing in mountain laurel, Japanese maples, herbs, vegetable starts, flowering annuals and perennials, succulents and even carpenter bee traps.
Breezy Acres Nursery, 19 Warlick Rd, Mills River, 828-891-2244
Growers of Japanese maples and other specialty plants. Professional people and quality products since 1974. We accept cash and checks only.
Briggs Garden Center, 4189 Brevard Rd, Horse Shoe, 828-891-4000
Family owned and operated for 70 years. Great selection of annual and perennial plants, hanging baskets, potted flowers, shrubs, trees loose mulch, topsoil and stone. Also available is a large selection of palleted stone and boulders.
Carolina Ace Hardware, 911 Greenville Hwy, Hendersonville, 828-697-2237
Carolina Ace Hardware and Garden Center, is a spectacular neighborhood store with a hometown atmosphere. Our staff works diligently to ensure you will have a great shopping experience. We are not your average hardware store. We have a 5,000 sq. ft. Garden Center filled with unique plants and a Hallmark Gold Crown store inside. There is something for everyone at Carolina Ace Hardware!
Downtown Hendersonville, Main Street between 6th Avenue & Caswell Street (covering 8 blocks)
The downtown portion is available only Saturday and Sunday. Main Street hosts 78 socially-distanced vendor spaces featuring small plants, yard art, soaps, jewelry, garden tools, birdhouses, pottery, wind chimes and more! Downtown Hendersonville is home to over 20 restaurants and unique shopping. Visit the new Bee Mural, part of Bee City USA – Hendersonville, one block off of Main Street in the Azalea parking lot, on the corner of 3rd Avenue and King Street. The hive is painted on the exterior wall of the Hands On! Children's Museum.
Holt Orchards, 17 Holt Pond Dr, Flat Rock, 828-551-7266
We are a brother & sister team working to keep our stepfather's dream of having an apple farm alive. Please come visit our farm and enjoy all that our vendors have to offer. Plants, baked goods, apple items and more!
Jean's Hosta Farm, 1625 Howard Gap Loop Rd., Flat Rock, 828-606-8495


Family-owned and operated farm specializing in garden varieties of Hosta and assorted other garden plants. Display will include additional garden, patio and deck decor.

Linda's Plants & Shrubs, 308 Stepp Acres Lane, Hendersonville, 828-685-0738


In business since 1984, we are full service garden center and farm offering annuals, perennials, veggie starts, herbs, trees and shrubs, beautiful hanging baskets and custom plantings.

McConnell Farms, 177 Old Dana Rd, Hendersonville, 828-692-2819
Family-owned nursery and greenhouse offering a wide variety of plants, shrubs, trees and hanging baskets. Apples and strawberries, as well as farm-made and bottled apple cider, donuts and ice cream will be available for purchase.
Mountain Fresh Orchard, 2887 Chimney Rock Rd, Hendersonville, 828-685-7606
Roadside apple market with bakery serving apple cider donuts, apple fritters and more. Take a train ride through the orchard on The Apple Express. Honey, apple butter, jams, jellies, apple sauce and other canned items for sale in our farm market.
Raymond's Garden Center, 1320 Kanuga Rd., Hendersonville, 828-696-8000
Full-Service Garden Center selling plants, trees, perennials, annuals, house plants, pottery and more.

Sideways Farm & Brewery, 62 Eade Rd, Etowah, 828-595-4001
Surrounded by gardens, pastures and fields, Sideways emphasizes the connection between the land and the beer, using ingredients grown on the farm in our ever-rotating menu. We also hand craft hard jun kombucha and serve locally made soda and wines.
Starting Gardens, 6075 Brevard Road, Etowah, 828-595-2248
Great selection of annuals, perennials, native plants, shrubs and trees, garden gifts, ceramic pottery & decor.
Stepp's Hillcrest Orchard, 170 Stepp Orchard Dr, Hendersonville, 828-685-9083
Enjoy a 100-acre multi generation family farm where fresh air, sunshine, and wide-open spaces abound! Visit unique craft and plant vendors. Be sure and check out our apple butter, jams, jellies, farm t-shirts and hats, Stepp family created grape vine wreaths, locally crafted quilts and dishtowels, and handmade soaps in our farm market. Come hungry! Enjoy the farm's famous apple cider donuts, fresh popped kettle corn, refreshing lemonade slushies, and lunch from Southern Hawg BBQ food truck under the picnic shed.
Stepp's Plants,156 Arrowhead Hill Lane, Flat Rock, 828-243-5299
Stepp's Plants grows beautiful hanging baskets, potted plants, bedding plants, and a large variety of annuals and perennials.
There are no upcoming events at this time.