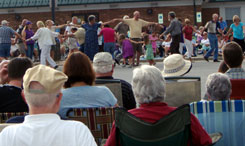 The Street Dances celebrates its102nd anniversary!  The Dance features mountain heritage bluegrass music, square dancing and clogging on Monday July 27 August 10, 24 & September 14. The evening starts at 6:30pm, when the caller, teaches audience members some basic square dancing moves so that everyone can join in on the fun led by the evening's clogging group.
The entertainment TBA.
In addition to you danging shoes, bring a chair to enjoy an evening filled with live music, dancing and entertainment from 7 – 9pm. The audience seating area opens after 5:30pm, and early admission is prohibited. Please leave your pets comfortably at home. Admission is free. No alcoholic beverages, backpacks or coolers allowed.
In case of inclement weather, the concert will be postponed until 8pm. If the weather does not improve by 8pm the performance will be cancelled.