Riveter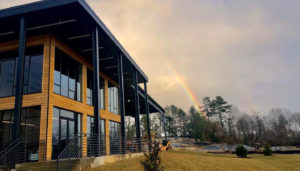 701 Old Fanning Bridge Rd.
Fletcher, NC 28732
The Riveter Climbing Gym boasts over 16,000 sq ft of climbing terrain.
The dedicated kids climbing cove offers 2 massive geometrix climbing routes, 11 rope stations, and a boulder area that tops out to the world's coolest slide.
State-of-the-art hangboard and pulley systems to support recreation and competitive fitness.
Covered area with terrain for all types of bikes and skill levels.
The outdoor riding area offers a wide range features of a hillside.
Bike rentals are available. See pricing for more information.