Hendersonville Visitor Center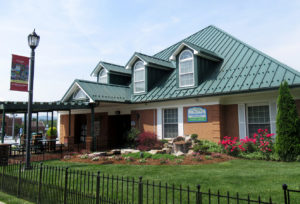 201 South Main Street
Hendersonville, NC 28792
800-828-4244
828-697-4996
Show a Hendersonville Rewards Card to receive a free gift on a purchase of $10 of more in the souvenir shop.
Top Ten Reasons Why You Should Come by the Hendersonville Visitor Center
Conveniently located in historic downtown Hendersonville, on the corner of Main Street and Allen Street.

Friendly staff and volunteers who are knowledgeable and excited to tell you about the diverse communities in Henderson County

Hundreds of brochures, guides, maps, dining and lodging information.


Clean Public Restrooms

Free parking

Pet Friendly

A great place to shop for Hendersonville souvenirs and unique gifts

Relocation Resources

Free WiFi

Free Cell Phone Charging Station
Step-On Guide Service available by appointment.

Specially-trained local guides are available by appointment.

A free bus "meet & greet" at Visitor Center is available by appointment. 

Tours ranging from ½ hour to all day available for a modest fee.

Customized itineraries free upon request:apple blossom & harvest tours, outdoor recreation, local history, spring & fall tours, museums and more.